TES: Answered Prayer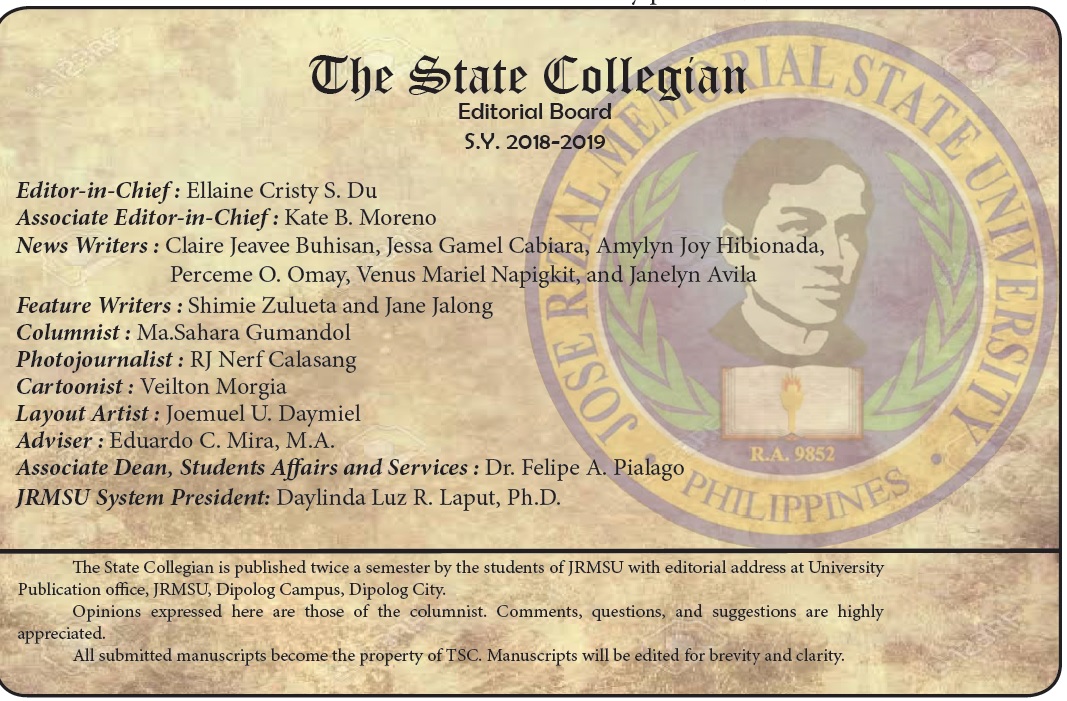 Privileges and opportunities knock once; hence, we have to value what we possess and never take for granted every chance we acquire because it might lead to nothing.
Students of Jose Rizal Memorial State University are very lucky because they availed free higher education; thus, the only weapon to do is to study, to attend classes regularly, and to do the given responsibilities.
Much more blessings at hand! Some of the students availed another blessings at stipulated in Republic Act no. 10931 Sec. 7 which known as Tertiary Education Subsidy (TES) for Filipino Student, to support the cost of tertiary education from the currently enrolled students in 112 State Universities and Colleges (SUCs), 78 CHED recognized Local Universities and Colleges (LUCs). About 300,000 students can receive financial support to cover the cause of their tertiary education.
JRMSU listed as number one state university all over the Philippines in terms of number of with 3,997 through the collaborative efforts of the
JRMSU high ranking officials headed bv our very own System President, Dr. Daylinda Luz R. Laput. Out of the total number of beneficiaries, the Dipolog campus had 1,040 student-recipients who will be receiving 20,000 per semester effective this academic year (40,000.00 per year.
This privilege is truly an answered prayer to those students who cannot afford to go to college or even have the difficulty of providing their basic needs. This grant was financially given to mainly cover the rent of the boarding houses, projects, books, and other personal expenses and of course, to lessen the burden of the parents on their daily allowances.
As the information flooded in the JRMSU campus, it caused a big talk which lot of students felt the excitement because of the big amount that they can get as TES helped those student from the poor families but deserving to continue their studies.
During the orientation attended by JRSMU and UniFAST officials together with the beneficiaries, the System President reiterated that there would be no reason for the them not to go to school especially to the students who successfully part of TES grantees.


Yes, this is definitely a blessing. Thank you to the government under the leadership of President Rodrigo Duterte for extending their untiring help to the students. Therefore, the students were challenged by doing their responsibilities. Utilize the money with a purpose and save it for the future. Prove that each grantee deserves the given privilege because that financial assistance is considered as a lifetime achievement.
In return, the government as well as the state university individuals reminded them to use the money wisely because what government wants was to let them pursue their studies and hopefully, these grantees will land a good job in the near future.