Senior education student, reg'l best essayist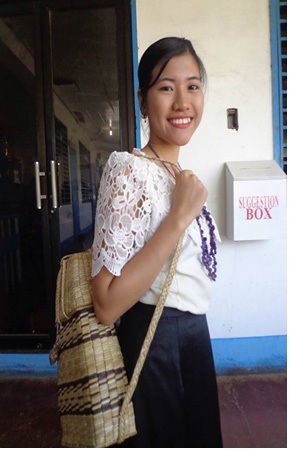 by: Janelyn Avila
"Having a child that is juvenile, slow-witted and ignorant is not your fault for you are not the mother. But having that child enters your class and remains unchanged for you are the teacher."
This was the introductory part of the winning piece of the fourth year secondary education student of Jose Rizal Memorial State University Dipolog Campus who declared champion during the Regionwide Essay Writing Contest as one of the line-up activities of the 3rd Regional Students' Congress sponsored by the Philippine Association for Teachers and Educators (PAFTE) held at Saint Vincent's College Annex, Dipolog City.
Virgenia Manluyao, a BSED-English major student outnumbered other 10 contenders from the different colleges and universities in Region 9 after showcasing her writing prowess during the thirty-minute contest.
During the competition, this consistent honor student disclosed that they were tasked to make an essay what teaching profession was and how it could make a difference.
"I wrote an essay on how a teacher wore different masks as he or she portrayed as an actor, a storyteller, a coach, facilitator, and even provider. I also talked about the daily challenges that an educator was facing and how it would be rewarded through the credentials brought from every success of the students as teachers took part in building the nation and closing the prison door.
As a concluding part of her essay, Manluyao, who received a cash and a certificate, emphasized how the government would help the poor, but a teacher would set us free from the borders of poverty.