JRMSU student to represent Philippines to World Costume Festival 2017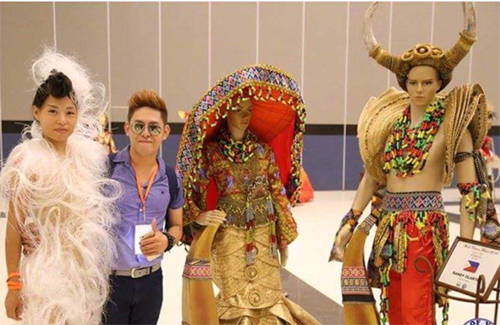 A 22-year old JRMSU tourism student will represent the Philippines on the upcoming World Costume Festival at Taipei, Taiwan next.

Randy Olarte, 22, resident of Minaog, Dipolog City, tourism student in this institution, make-up artist and costume designer bagged the World Costume Festival 2016 as 2nd runner-up at Vigan City, Ilocos Sur last October 23.

Olarte won on the same competition in regional and national level. Automatically he became the representative of the country who competed with the costume designers from other countries like Japan, Indonesia, United States of America and Africa.
His design represents the native way of living in Zamboanga Peninsula and shows the big role of farming using native cloth like carabao's horn and metallic brass beads.
Overall, the costume became the reflection of the status of every Filipino. It also highlights festivals in the country as part of Philippine tradition.
According to Olarte, he had no plans in joining the competition so his preparation was just a week. "I wasn't expecting to be on top three (3) because there were many beautiful costumes designed by international designers ."Being overwhelmed is just an understatement", Olarte said.

Olarte revealed that for now, he still has no plans nor idea what he will be doing in the upcoming competition but he assured he will give his best to give pride in our country especially to our city in the worldwide arena.

In an interview, Olarte openly revealed he asked for financial assistance from the City and Provincial Government.