College of Education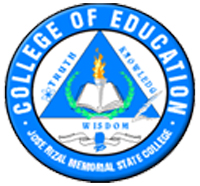 CED VISION
CED envisions on becoming a center of excellence on teacher training institutions in Mindanao for development and productivity in regional, national and global arena.
CED MISSION
CED commits to produce competent and patriotic teachers imbued with professional and technological knowledge, skills and values that can respond to the existing needs in the community.
CED GOALS
College of Education aims to provide quality instruction, research, extension and production that will equip the students with knowledge, skills and values for them to be responsive to the demands of society.
CED PROGRAM OBJECTIVES
GENERAL OBJECTIVES
Preparation of competent teachers of the future capable of nation building and adequately competitive to the demands of globalization for the promotion of life.
SPECIFIC OBJECTIVES
1. Develop students to become competent teachers.
2. Train the students to be socially responsible professionals.
3. Produce-value oriented, competent and employable graduates.
CURRICULAR OFFERINGS
Bachelor of Elementary Education
Bachelor of Secondary Education major in
English
Mathematics
Filipino
MAPEH