Change is coming with the new SSG President
By: Shem JarminVillamor and Julie NutriCanillas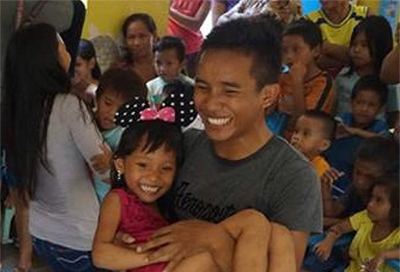 "Oo, akongapo'ynognog, pandak, lakisahirap… perohindipoakomagnanakaw", this was the remarkable statement of the newly elected SSG President of JRMSU Dipolog, Mr. Christian R. Buhisan during the Miting de Avance last May 17.
As the incoming SSG President, let us get to know him better on what and who he really is as a student, friend, leader and as a person himself. Born on April 2, 1997, Christian RenaciaBuhisan is the eldest child among two children of Mr. Isagani and Mrs. EmeldaBuhisan. He was currently taking up Bachelor of Arts in Mass Communication and if given a chance he would like to pursue his dream, to become a lawyer.
He described himself as a strict yet approachable and God-fearing person. For those bosoms and know him better, they described him as a humane and responsible friend. Christian is very active in school, not just in academics but also in extra-curricular activities. Upon entering in college, he immediately found his place in the university. He joined and became an active member of the campus choir, The DimasalangChoristers and not later, he became the president of the said organization. On his reign as the president of the group, they received several recognitions from different institutions. He was also part of the school publication,"AngBagongPananaw" as a writer.
There, his talent in writing was honed and showcased as his articles were published. Because of his kind –heartedness and eagerness to serve his colleagues, he ran and in God's faith, was elected as the Vice-Governor of the College of Arts and Sciences for the Academic Year 2015-2016. On his term, he was able to initiate projects and resolutions that were helpful to the students in the said college. As the year 2016 entered, his name was one of the most spoke about by the students to be the next SSG President. At first, he doubted if he would run but in the end, he decided to file his candidacy for presidency. One of his reasons why he grabbed the challenge was because of the bellow of the students for change.
Inspite of the issues and controversies being thrown to him, he continued his fight and he thought that it was just part of his journey to success. And he was thankful because just a day after the election he was proclaimed as the new SSG President. He promised, that just like the name of his party list, Yes to Change and the famous slogan of the Presidentelect of the Philippines, Mayor Rodrigo Duterte, Change is really coming.