Barangay Walang Iwanan launched in Sicayab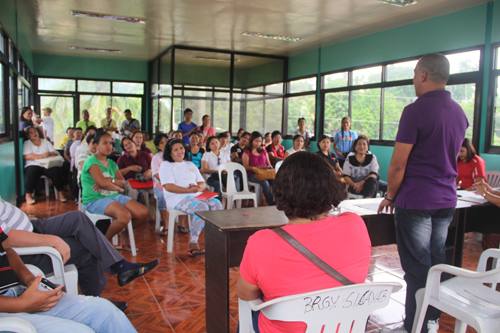 Jose Rizal Memorial State University-Dipolog Campus through its community extension service program launched Barangay Walang Iwanan Program of the Gawad Kalinga Foundation Inc., on August 6, 2015, at Barangay Sicayab, Dipolog City.
The program aimed to develop culture of sharing and caring Barangay Walang Iwanan launched in Sicayab Campus Community Extension Director Dr. Clarita D. Bidad emphasizes to beneficiaries the role of the university in extending community services. By Stella Italia P. Pinna among locals in the community and develop the value of volunteerism in eradicating poverty.
The local government unit of Sicayab as recipient of the program will be able to receive 12 programs for its non-working barangay folks and out-of-school youths. It will benefit Kusina ng Kalinga, GK's flagship program to end hunger and malnutrition for children across Philippines; Kalinga ng Kalikasan services that respond to the call of caring for the environment; Kalinga ng Kalusugan, building healthy communities through the training of its residents and supporting priority health needs; Youth Development Program, aimed to develop the skills and talents of the youth by inculcating values that bring out their full potential; G.A.W.A., aimed to organize skilled and non-skilled workers from construction workers to linesmen-and prepares them for employment opportunities by building their character and skills; GK Communities-Community Building Program, which empowers GK communities to be self-reliant and sustainable by building up its people towards unity and self-governance; Bayan-Anihan, services that respond to eradicate hunger by establishing sustainable food sufficiency programs through Multi-Sectoral Partnership; Balanga, building of boats in coastal barangays and help establish livelihood programs of fisherfolks; Sports Program, aimed at organizing sports program designed for poor communities; Disaster Preparednes, workshops on disaster management; Mabuhay, showcasing tourist destinations and unique beauty of the area and
Social Enterprise, aimed in bringing sustainability for the community by harnessing residents for small to mid-scale enterprises.
According to Dr. Clarita D. Bidad, community extension director of Dipolog campus, locals will benefit voluntary assistance and support from instructors and experts in the university during the span of the 54-hour training.